Have you heard of Digital Learning Day? Each year in February, we celebrate all things that we are doing in the classroom that brings new technology into our students' lives to help improve outcomes in the classroom.

         I love to include different opportunities for students to use technology in the classroom when it is appropriate. We are lucky to be able to access Chromebooks on a regular basis. Having the Chromebooks in the classroom allows me to try out new websites with my students.
         For review, many teachers have heard of Kahoot. While my students love this site for reviewing information, I am not in love with it. The music for one drives me mad. I also don't like how my students race to answer questions without really looking at the options. Since Kahoot rewards accuracy and speed, I have students who will try to answer the questions as fast as possible not really looking at their choices. 
         To solve this problem, I use Quizizz. Quizizz is super similar to Kahoot in that you can search or create your own review games. I choose to create my own as I find this formative assessment is indicative of how students will perform on a later assessment.
         Quizizz is designed for students in grades 3-12. It is free. Students are not timed while they are reviewing. Instead, students will see how they are performing compared to their peers, but the winner isn't announced until everyone is finished. I like this option because no one feels rushed. Students like it because, after each question, right or wrong, a funny meme will pop up. This keeps them interested. The music is not wild and erratic but soothing and engaging for students.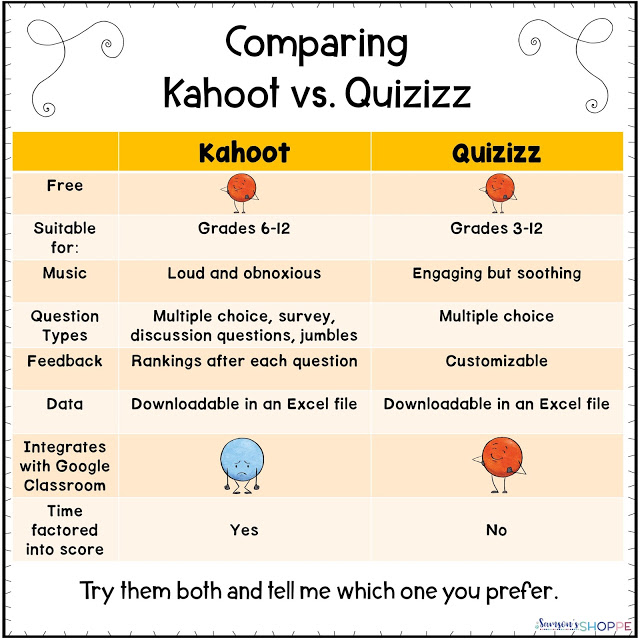 Quizizz can also be linked to Google Classroom which makes it easy for kids to access and can be assigned for homework. At the end of the review game, you can access how students performed. This data is helpful to have for parents or yourself. It can also show how students are progressing within the subject area.
Check out my video below. I will walk you through the key features of this site.
Hope you enjoyed reading about how I use technology in the classroom. Comment below and let me know what type of technology you love to use in your classroom. 
Join the newsletter
Subscribe today to get engaging (and FREE) content and ideas for your classroom.