This post has been sponsored by Five Star®. All thoughts and opinions are my own.
             

Teachers are always looking for new ways to engage and inspire their students. As a middle school teacher, our grade 6, 7, and 8 students can be especially challenging. As you have followed along my teaching journey, it shouldn't come as a surprise that I love to incorporate art, coloring, and sketching into my subject areas. There is science behind it and students like it. One way to successfully integrate the arts into your content area is through Interactive Notebooks.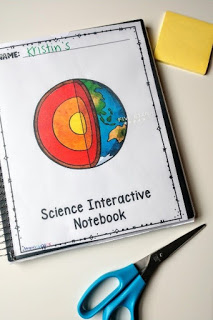 Interactive notebooks are a tool that can strengthen student learning through student participation. There are many methods of Interactive Notetaking, I have adapted to a style that fits my unique classroom needs. In my Science and ELA classes, we keep a Table of Contents in the front of the notebook. This makes it easy to reference a topic. The pages consist of class notes, lab activities, and vocabulary. More importantly, it also holds student processing through predictions, brainstorming, reflections and sketches or doodles.  


This year I tried out using
Five Star®
Interactive Notetaking items
. One of the reasons for choosing a specific notebook is the layout of these. The first few pages of the notebook include a table of contents that includes a labeled spot for the date, topic/description, and page number. For students that struggle with organization, this is a life saver. In the past, we would set up our notebooks in this same exact manner but having a notebook that is already set up in this way allows me to save precious class minutes while giving me peace of mind that each student will have a correctly set up notebook. Also noted is the durability of these pages. They are thicker and made to hold up so that in January, they haven't fallen out and been stuffed somewhere in the back of their locker.
             

Another benefit for my organizationally-challenged kids is the amount of storage that these notebooks have. There is a plastic protective front cover on the Five Star® Interactive Notebook with an ID label to keep track of the notebook, and clear pockets on the inside. The Five Star® Customizable Interactive Notebook has an additional pouch on the front cover (so students can customize it) and two plastic protective envelopes that can be used to store manipulatives and such. The Five Star® Customizable Interactive Composition Book includes the same features but does not have the two plastic protective envelopes.
Working in the notebook is a breeze. The actual pages of the Interactive Notebook contain a sidebar and spot for the page number. Again, this is a lifesaver for keeping everything organized. The sidebar can be used for noting the topic, important concepts, and ideas to keep in mind or a place for doodles about the notes written on the page. As stated before, my students use these pages for a variety of activities. In ELA, I love to use them for keeping track of traits by creating character charts when reading a class-assigned book.  Students can add their own notes and color to make them come alive. In Science, tracking characteristics, properties, and examples of states of matter allows students to come back again and again for reference.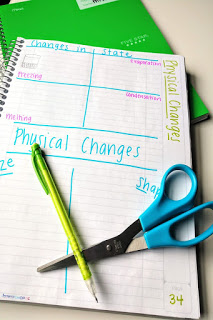 Finally, one of my favorite parts is in the back of the Interactive Notebook where there is a reference page. This page can be used for periodic tables, multiplication tables or a glossary of terms for important vocabulary terms. It is comprised of small boxes so I can even see my students graphing important information on these pages. Again, just like the table of contents, these back pages are thicker and more durable to hold up against pre-teen strength and careless tossing into their backpacks. In the FiveStar® Customizable Interactive Notebook, Five Star® Interactive Notebook (College Ruled) and Five Star® Interactive Notebook (WideRuled), these pages fold out, which is a nice, unique feature.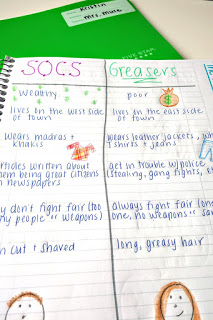 In true Five Star® fashion, all the notebooks feature thick, sturdy covers. This helps them last throughout the year. Using these notebooks in my classroom this year has been a game changer. They allow me to personalize my teaching style while giving my students the ability to stay organized and customize their learning styles. For these reasons,
Five Star®
Interactive Notetaking items
are the preferred Interactive Notebook on my back to school grade 6, 7, and 8 supply list. I encourage all teachers to add Five Star® Interactive Notetaking items to their back-to-school supply lists. Do you use Interactive Notebooks in your classroom?