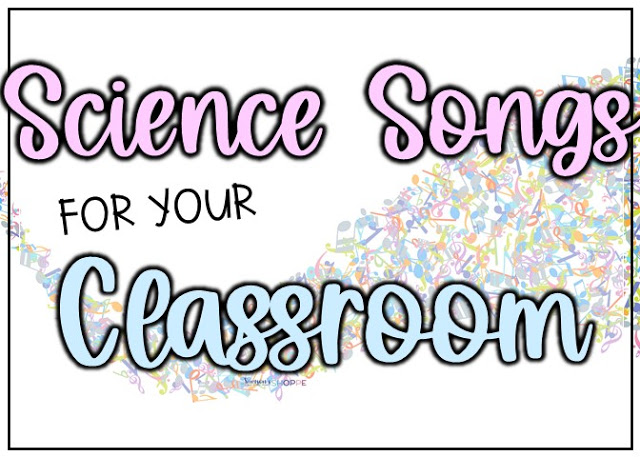 Whether you are in remote learning or in the classroom, you can spice up learning by incorporating science songs into your classroom. If you are distance teaching, I love the idea of starting the Google Meet or Zoom session by playing one of these songs to get your students motivated and engaged for science class.
Here are some songs you may want to incorporate into your science sessions:
Science songs for your classroom
This is a fun song to include in your lessons. It should be noted that there is one line toward the end of the song that may make teachers feel uncomfortable when the artist says, "She made love to me," while many students may not even pick up on it, you may want to shut off the song before it gets to that part. 
Use this science song when teaching about planets or the universe. It was written after the poet's mom died of cancer, releasing her spirit to roam freely around the universe. 
    I have also used these as a game to play at the beginning of class when introducing star systems. This starts off our solar system unit. Tell students to list all the words they hear that have to do with the solar system. This helps calm and interest students before class.

While many people believe that this song is about a love story between a girl and the narrator. Some lines suggest that she is going through a breakup with him. The lyrics compare the break-up to different seasons and storms. It also references the universe and the moon, which is Earth's satellite. 
"Gravity is always working against me, 

And gravity wants to bring me down…"  
This would be fun to use with a unit on force and motion when you are studying gravity. 
An entire album devoted to science! All songs are three minutes or shorter and cover various topics such as the solar system, the sun, force and motion, elements, and photosynthesis. 

Remember the song Gangnam Style that was a hit a few years ago? Well, this parody is a fun play on science. 
This is a fun parody of Dua Lipa, who became a sensation this past year. I always find myself wanting to spice up my lab safety materials, which is a fun option. 
Reviews the respiratory system and how it works. This would be a cute introduction or review of the process of respiration. 
I love spicing up my periodic table of elements unit. This year especially when trying to teach it virtually, it is a struggle. Using songs can help students remember important information and facts. 
Fun fact: I have been using this song for years in my classroom when learning about the different elements. It gives students a quick overview of all the different elements and their use on the periodic table of elements. 
Disclaimer
: This song is SUPPPPER catchy. It sticks in my head all day. Please don't get mad at me. 
If you are teaching about metric measurement and your students do not know how to read a graduated cylinder, this song is a MUST. It starts out slow… but give Mr. Edmonds a minute, and your students will forever remember how to measure using a graduated cylinder. 
Disclaimer
: Past students have come back to tell me they remember this song! 
Incorporating music into the classroom will always make students excited about learning. What I also like about this list is that this is a good starting point. Assign extra credit and have students find more relationships between music and science to bring their favorite genre or artist into the classroom. 
Need More Science Ideas?
Subscribe to get easy to implement ideas into your inbox.