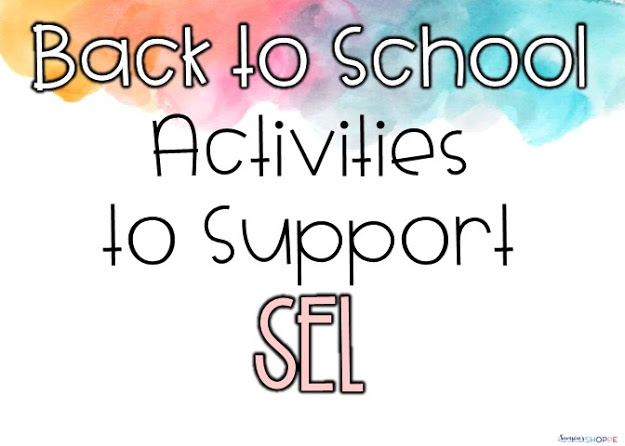 With so many articles now coming out about the mental health ramifications on our students, planning to improve the social-emotional health of your students is one of the best decisions that you can make for a positive school year. Using specific back-to-school SEL activities can quickly improve your ability to connect with your students.
 If you need the basics on what social-emotional learning is, the importance of it, and quick ways to connect, communicate, and get creative with your students.
You can read more about it here
.
SEL Back to School Activities to Build Relationships:
Making connections, communicating, and getting creative:
    Students need to feel connected to your classroom, you as the teacher, and classmates. The stronger their connection, the stronger their internal desire to want to try their best in the class.
    Communication is important and a two-way street. It is important as the teacher to be clear in your instructions and how you are communicating about academics. Students need to feel comfortable communicating in return. Students should and need to feel comfortable to tell you when they do not understand something or if there are things in their personal life that inhibit them from completing assignments or doing well in school.
    Students know when teachers care. They can tell when you WANT to be there and when you are trying your best for them. However, they may get bored at the same monotonous plan. Try to get creative every once in a while with a new activity or how it is presented. This will keep students engaged and motivated in your classroom.
Ways to Improve Student Social Emotional Learning in Your Classroom:
Below are specific ideas to use in the distance learning setting to build and improve your personal relationships with your students.
Video biography:
When the back-to-school season starts, our new students don't know anything about us. They don't know who our children are, pets, fun hobbies, favorite sports teams, or snacks that we gotta have. But, we usually share things at the beginning of the school year, as we are together in the classroom or something students observe us doing in the classroom. So, before the school year starts, create a back-to-school SEL video biography for your students.
In the biography, start with an introduction. Then, tell the students who you are, what you are teaching them (especially for upper elementary school teachers who may be departmentalized), and how you cannot wait to get to know them. Next, share about your teaching experience, which college you attended, and degrees that you achieved.
After you have shared a bit about your professional side, get into some fun stuff. Share the fun facts. Since this is a video, you can even show them your house, pets, or family members. If you are comfortable, have family members give a quick hello. This aspect of the video will show students that you are human, just like them. You are their teacher, but you also have a life outside of school. Creating these connections will allow students to understand you better as an educator and as a person.
Another good idea to do after you have shared your video biography with the students is to have them respond. Their responses could be made in a
FlipGrid format
. Allow them to share about their personal lives. If you have your students do this, be sure to take the time to watch and respond. Watching their videos will allow you to learn more about who they are as human beings.
Theme Weeks!
In my school district, every few months, we have theme weeks. They are weeks when we can show our school spirit. Often the teachers get into it more than the students. Bring the theme weeks to your classroom. Theme weeks can take the anxiety out of what to wear when seeing their classmates, and it is a fun way to get the students to come to the meeting. Some ideas for a theme week can include: 
Pajama Week (This is easy enough when we are working from home!)




School Spirit – wear school colors or any spirit gear

Dress for the Decade – choose a decade and dress as they did

Favorite sport team
Choose a color (blackout, neon, etc.)
Dress to Impress – sometimes, dressing up even when you are at home feels good for the body and spirit.
Dress for the future – dress for the profession you want to become (I dressed as an FBI agent once! 😂 )
Tutorials
 When introducing something new to your students, it is good to create a tutorial to walk them through the steps. In the classroom, you would most likely be doing this as a whole class activity allowing the students to observe you. In remote learning, the video can serve the same purpose and allow students to rewatch it several times if t
hey are having trouble. While it may seem more time-consuming, it may actually save you time in the long run, as you can refer to the tutorial if there are questions and share them with parents.
    A tutorial will also allow students to see and hear what you are doing. This hits several modalities that allow for better comprehension. Tutorials are essential at the beginning of the year as you set up your digital classroom procedures. Students need to understand your routines so they can fit into them. Tutorials can be created for concepts but should also be created for classroom procedures such as: 
 

How to take assessments




 

Course expectations

 

How to submit work




How and where to ask questions or get in touch



A safe place to share 
Another back-to-school SEL strategy is to think about creating a safe place or an outlet for students to share about their lives. For example, discussion boards can be created in some learning management systems such as Schoology, where students can respond to questions asked by a teacher or student response. The more places students have to share, the more comfortable they will feel opening up to you.

    Another option is an activity like "Three Things I Want My Teacher to Know." This allows students to write down three things they want to share with you. Some students take assignments like this seriously and divulge information about their personal lives to make their classroom behavior more understandable. Read more about it here. You can access the material to implement this assignment into your classroom TODAY below.

    Also, an activity that I absolutely LOVE… having students share what their bedroom looks like. Initially, this activity was completed as a companion to a book, but it gave me so much insight into my student's life that I also include this as a back-to-school activity. To get the assignment and read more about it here.

This app allows you to communicate with parents or students through text messaging safely. The app ensures that your personal number is not given out. Communication is key in any relationship. The more ways you can communicate with students and families, the easier your life will be. Reminding parents and students of new assignments posted, due dates, assessments, etc., may seem like a lot of work on the forefront, but it will save you time on the backend. Think of when grades are due, and you won't have to chase anyone down because you already have all quarter. Your future self will thank you!

I hope these activities provide you with a starting point as you enter the new school year. It is important to keep our students' fragile social-emotional state in mind and do our best to support them as we transition back into the classroom. If you have comments or questions, please share them below!
Other ready-made lessons and activities to get to know your students.