Introduction to Schoology:
    A learning management system allows you to run a virtual classroom while managing administrative tasks such as taking attendance, inputting, and recording grades. Choosing a learning management system is tough. In the past, I started out using Edmodo. It was ahead of current tech trends and allowed a constant relationship between school and home. Then I dabbled with Google Classroom, for the fact that it was easily connected with so many apps and extensions. For many years colleagues within my district used a platform that spoke to them, whether it was Google Classroom, See Saw, Schoology, or simply posting on a website. With the onset of remote learning due to the worldwide pandemic, my district made a decision to move forward with a streamlined learning management system so that all teachers could remain on the same page. Beginning in September 2020, our district is requiring teachers to use Schoology. 
    Having used several learning management systems before, there are aspects of all of them that I loved.

Edmodo: So easy for the kids and parents to navigate as it resembled a Facebook newsfeed. It is very intuitive and fostered a nice relationship between school and home. 
Google Classroom: Integrated nicely with many other apps and extensions. There are so many that are specifically made to work with Google Classroom. 
Schoology: The ability to track and sync grades with our grade book, Infinite Campus, makes life so much easier. Report card time is now a breeze as it takes the effort out of calculating grades and limits the need for a paper grade book. 
Knowing that the onset of remote learning has put many others in the same predicament, I will introduce you to Schoology so that by the time you are using it, you will have a good idea about the features it holds and areas to pay attention to.
Getting to Know the Schoology Platform:
When you log into Schoology, your home page may look something like this. Along the top, you will see the Schoology logo. Whenever you click on it, it will take you to this screen. 
Courses: 
Clicking this button will take you to a page that lists all your courses. This is also known as the Course Dashboard. Here you will be able to click on any of the icons to access the course in which you want to view. 
    Courses are normally populated for you, by your district.

    The icons for the courses can be changed. You can choose one of Schoology's limited layouts or create your own. 
Groups:
Groups are different from courses in that they are created to allow for professional development, communication, collaboration, and resource sharing. Teachers can create a group for class parents, clubs, or a collegial circle.
    There are also groups already formed on Schoology. One that you might be interested in joining as a newbie is Schoology Educators. In order to join a group:
Click on "Groups" along the top bar.

To the far right, click on "My Groups"

There you have the ability to join a group with either an access code or by searching school or public groups.

Or, you can create a group and invite others to join in.
Resources:
    This is an area that holds all your teacher stuff. Think of it as your virtual filing cabinet. All folders and materials that you use to teach are housed here in one easy spot. There is unlimited storage in this area, so that is one worry off of your mind!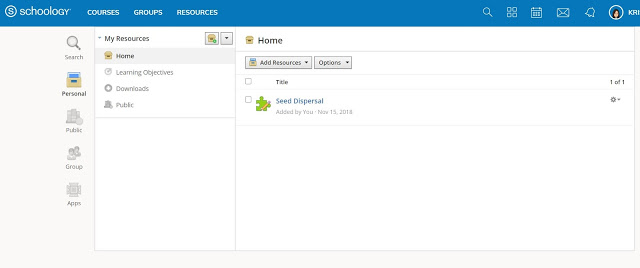 There are three areas that you will want to familiarize yourself within Schoology's resource area.
Left-side Navigation bar: This allows you to toggle between your

Personal resources: Ones that you create or upload into Schoology.
Public resources: Ones that are available to everyone.
Group resources: Ones that are shared in one of the groups that you belong to.
My Resources: Your personal or shared collection of resources.
Home: This is your working area where you will allow you to search for materials depending upon which resource tab you are in.

For example: if you are in public resources, you can search for a particular resource that you may need.
In personal resources, you can create your own assignments or upload them from elsewhere on your computer.
Profile:
    Who doesn't love creating their profile? Here you can personalize your experience. You can add a photo (I like to use my Bitmoji) and play around with the settings by clicking on your name to the far right. You will see a drop-down menu that includes:
Your profile
Your school page
Settings
Subscriptions
Log Out
In profile, you will see options to:
Add a picture – Click and upload a picture on your computer or choose from one of Schoology's limited avatars
Add interests and activities
Write a bio – could include teaching background, certifications, and achievements
Include updates – only those who have access to your profile page will get the updates (depends on how your district sets this up)
Write a blog – This is meant for you to use (if you choose – I don't) as a personal blog to write about educational topics
Create a portfolio – (Only available for Enterprise members) – You can create, view, and share personal portfolios.
Connections – other members of your community
What else would you like to learn about Schoology? Let me know in the comments.
Get Digital!
Subscribe to get weekly tips and ideas to use in your classroom.