Back to school season is a time for teachers to set up rules and procedures for the upcoming school year. Teachers want to work smarter, not harder. In order to do that, why not continue to give your students classroom jobs?
Primary and elementary teachers give out classroom jobs to their students. Not only does this help to them run an efficient and productive classroom, but it also allows students to build on their personal skills of responsibility and dependability.
It is possible to continue to have classroom jobs even with students changing classes. You can decide if you only want your homeroom to take care of the classroom or have jobs each class period. Think about the structure of your day and what would work best for you.
Choosing the best student for the job can be done randomly, as it often is in elementary school or you could have students fill out a short application form. This would tie in real life skills as when students want to apply for a job that they want later on in life, they will need this skill. Applications do not need to long or lengthy by any means. Students can fill out basic personal information and then give a reason why they think they are fit to complete the job. Always keep in mind that these jobs are meant to make your life easier!
Some classroom jobs that are perfect for upper elementary and middle schoolers are:
        

Supply table supervisor

–

make sure all supplies are in order and ready to go

        

Technology assistant

–

this is a big one. I always have students that neglect to plug in their Chromebook and then it leaves it dead for the next student. Assigning a student(s) to take care of this task leaves you to worry about more important things, like if the technology actually working.

?

        

Agenda administrator

–

writes down the date, class and homework assignments on the board

        

Paper personal assistant

–

collect and distribute worksheets and assignments

        

Receptionist

–

Answers the classroom phone. This will also teach students proper manners when answering and taking a phone message.

        

Veterinarian

–

feeds and cares for a classroom pet

        

Waste manager

–

cleans up all the trash at the end of a lesson or activity

        

Sanitation supervisor

–

cleans the tables or desks with disinfecting wipes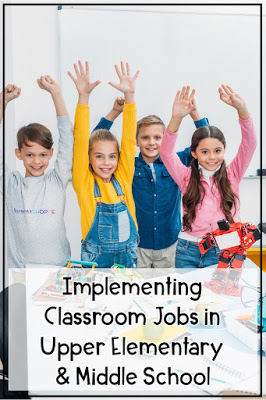 Do you use classroom jobs in the upper grades? I would love to hear how you implement them in your classroom. Tell me in the comments below!
Need More Science Ideas?
Subscribe to get easy to implement ideas into your inbox.