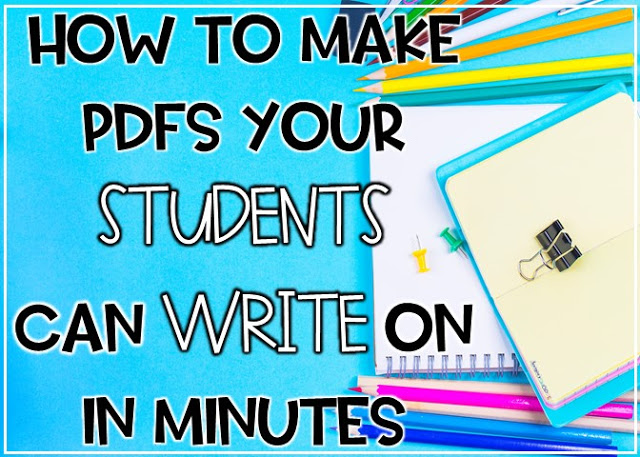 I cannot stress enough how hard distance learning can be. As an almost 15 year veteran in education, I spent HOURS lesson planning for my remote learners this past weekend. This was time spent already having some digital tricks up my tech sleeve. So to my tech newbies, I do understand your pain.
I believe in working smarter, not harder. Thank goodness we are teaching in a world where we can *hopefully* access our school files at home. Or maybe you can access your TpT downloads through "My Purchases". Either way, I am going to show you a simple way that you can turn those PDFs into documents your students can write on in under 5 minutes.
(In the screencast, I also talk about Kami, a Google extension. There is a free version. If this is of interest to you, click here to read about it. My tech hack below takes out any responsibility of the student).
Easy Steps to Get Students Writing on PDFs…
–

First, locate the document you want to use. If you did not read my previous blog post on how to pull out the pages of a document you need for student use, you may want to read that first. Click here for the quick read.
–

Next, go to this webpage: PDF to JPG. For my tech newbies, you are turning the PDF into a picture file. JPG and PNG are both types of picture files. PNG can produce a crisper file but will take up more space. Most likely, the JPG should work just fine.
–

On this page, you will choose the file you want to turn into an image. Let the page do its magic.
–

So, now you have image files. Big WOOP, what does this mean and how in the world is it getting into the hands and digital devices of your students?
Phase 2: Open up a Google Slide.
– Click "Background"
–
This is located in the second row of options but watch the screencast if you cannot find this.
Now you will be prompted to upload an image. Go to the image file you just created and choose the first one.
Continue doing this for the rest of the images in the file.
Phase 3:
This part is the most tedious and in my opinion, ANNOYING. You will need to add text boxes to where you want your kids to respond. Older students MIGHT be able to do this on their own but most likely you will have to add them in.
The good news is that once you create a textbox, I usually write in "Respond here", you can click the box and then click CTRL C and it will copy the box. Then hit CTRL V and it will paste it to the other spots you want to put it. If you have numerous text boxes that you need, just keep hitting CTRL V and move the box to where you need it.
Once you are done, click the share button to grab the link or simply go to your LMS (learning management system such as Schoology or Google Classroom) and upload it and your students now have a PDF turned Image that they can write on!
Like anything in life, the first time you try to do this, it will be more time-consuming. Once you have done it a few times, it will become much easier and quicker.
I certainly hope this helps you on your home school digital journey. This is a good hack to have up your sleeve even when you are back in the classroom teaching because it will save on paper and allow you to assign the same work to those who may have 1:1 digital devices.
Need more digital tips? Join me on my digital journey and get timesaving tips and fun ideas to use with your students!