While this school year will likely yield one of the most normal to date, fingers crossed, after the past few years, it is likely that most classrooms will take on a blending learning approach by mixing print, digital, and hands on learning to best fit the unique needs of our classrooms. 
As you navigate the school year, consider these 7 tech tips to help you during the back to school season and throughout the school year. 
When emailing large groups such as parents, your department, or all faculty, consider this teach tech tip, send the email as a blind copy. 
Using the BCC feature will allow:
Privacy for parents in your class,
The ability to add administrators onto emails with difficult parents or to keep them updated on ongoing issues,
Stopping the dreaded "reply all." Your colleagues will not know how to thank you enough! 
This teacher tech tip is for everyone wondering what to do with all the extra time on their hands. 
But seriously, use that time effectively by scheduling important emails before school starts, when there is a lull in the day, or while sitting in a faculty meeting listening closely to all the critical information. 
If you tend to send the same back to school emails at the beginning of each year, save them or copy and paste them into a Google Doc so you can quickly get them ready to be sent in September. 
Following these teacher tech tips will reduce the redundant work you do each year and use that time to focus on all the other things you need to do. 
Bonus tip: Once you have your parent list, go into your email provider, and create a "group" for your class(es). Input each parent's email so that throughout the year, you can quickly communicate with parents. 
If your school has a no cellphone policy, you are lucky because you already have a solution to this problem. But unfortunately, not everyone has such a policy or way to enforce it. 
This teacher tech tip may cost a bit for those who want to reduce distractions unless you get creative, but you will gain student attention in your classroom. 
Having a cell phone holder in your classroom will minimize student distractions. 
Assign each student a number so they know where to place their phone daily. At the end of class, they can take their phone back. Students can see their phones and realize they aren't tampered with, and you can have their attention. 
Bonus tip: Worried about students recording you? Be sure the camera is not facing the class!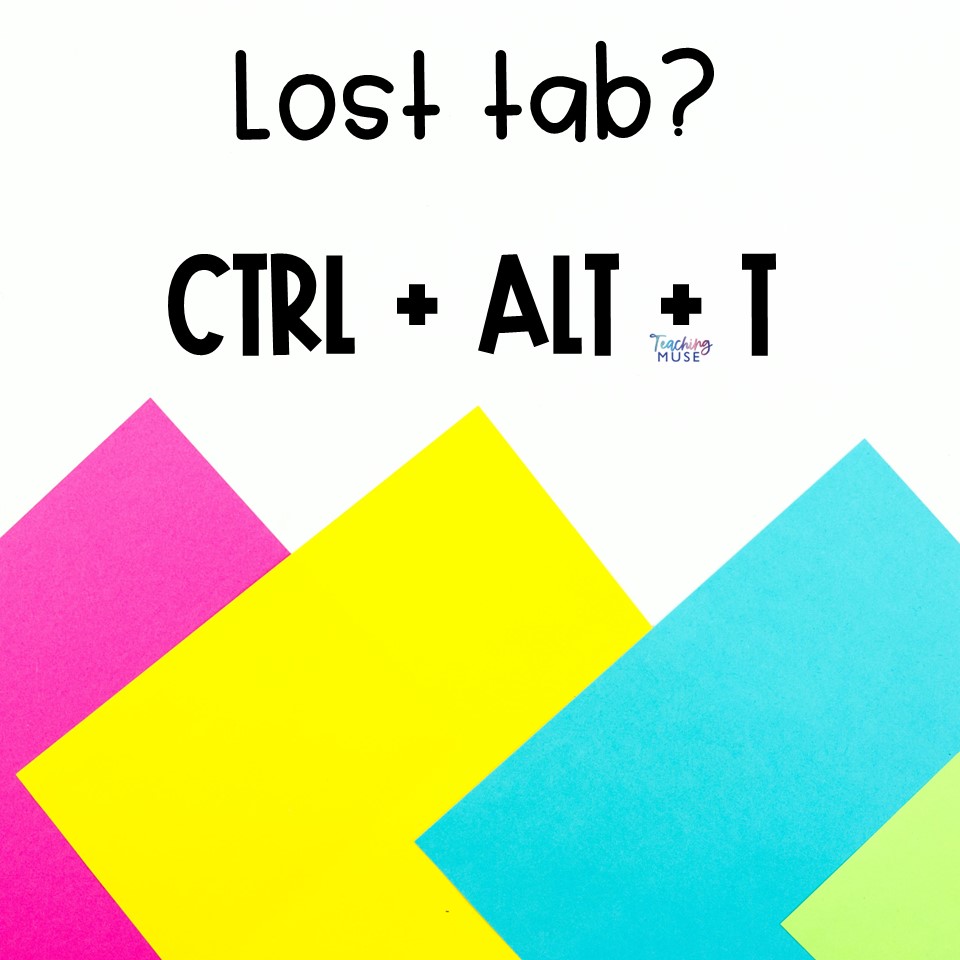 Ugh! 
Did you accidentally close out that tab you needed? 
No worries! 
Here's a simple tip to get it back. 
CTRL-ALT-T
By hitting this, you'll get that lost tab back instantly! 
This teacher tech tip will help keep you organized and save time in the classroom. 
Classroomscreen.com allows you to prep everything you need to run your class lesson smoothly. 
Choose from
screen timer
noise level gauge
clock
text box
calendar
group maker
draw tool
timer and stopwatch
dice
to set up your classroom screen. 
This tech tool is excellent because it can be shown on your Smartboard so that you can set students up at the beginning of class to let them know about
class objectives
"Do Now"
homework
upcoming assessments
The best part is that this application is totally free. So check out this fun tech tool to use in your classroom here! 
When saving your files, be sure that you are saving them into your school's Cloud services. Whether this is through Google Drive or another method, saving to the Cloud can save you lots of time! 
Saving to Google Drive will ensure that you can access the files wherever you have internet access. So if you suddenly need to stay home and need quick sub plans, having access to your files can save you lots of time! 
Maybe it's a rainy Sunday afternoon, and you want to finish your student's science test. Access to all your files will make it much quicker and simpler so that you can get back to Netflix! 
Hopefully, this tech tip saves you time this school year. 
One of the most critical teacher tech tips is to always expect the unexpected.
While parts of technology can be fantastic to add to our lessons and activities, there's nothing worse than the day you show up to work and the internet is down. 
For those reasons, you might be interested in my lessons and activities. Since they have print and digital companions, you won't be left thinking… 
"How am I going to teach today??" 
Get a look at the amazing print and digital activities you can use in your classroom today. 
I hope these time saving tech tips help you in your classroom this year. 
Looking for more tech tips? Check out these ideas below: