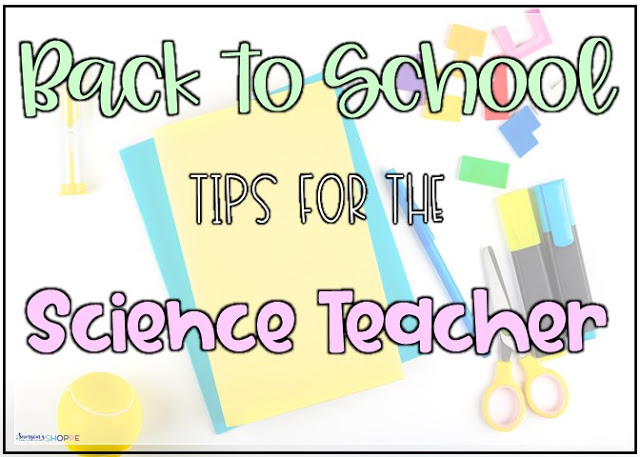 First-year and even veteran science teachers stress out in the weeks leading up the back to school season. There are so many things to consider when getting ready for the first day of school. First of all, there is your classroom, in which you want to create a safe, warm environment for your students to feel comfortable in, but there are so many other aspects
–
probably more important ones
–
to consider. Classroom management, what will you do on the first day of school? What supplies will you need? These are all questions that can keep us up worrying about how to get it all done. Don't worry teacher friends; here are some first-day-of-school science tips for using to get you started in your classroom. 
      

Let's share what works to help navigate and make this back to school season successful.
While classroom décor is undoubtedly not THE most important part of getting ready for the school year, it should play a role. Students don't need much, but I believe that you need to put in some effort to make your classroom look like a place where your students will be comfortable and show that YOU want to be there. Learn more about how I decorate my classroom with a purpose here. 
Once 
you
r classroom is done, you need to think about the supplies
you'll need throughout the school year. Sometimes this can be overwhelming, and I know I always forget something
…
So read about my list of 5 must haves here. (This is especially great for first-year teachers that might not anticipate the need for some of these supplies). 
I think, hands down, this is the foundation of your teaching. If you don't have failproof classroom management strategies, you will encounter many problems throughout the school year. It is true, students can sense fear, and they will try to take advantage. After teaching for 15 years, read through some of the tips that help me keep my sanity. 
Science Teacher Tip #6: Building Personal Relationships:
Ok, I lied. This is probably more important than classroom management. However, I feel that if you have taken the time to build relationships with your students, then you've already scored a big piece of the classroom management pie. Read on to learn how I make connections with my students.